Top 18 Best Privacy Browsers for Android 2023
Are you looking to browse safely and with the best privacy browser for Android browsers at blazing speeds? Then SPL VPN is here with the perfect list.
Well, the Play Store is ready with numerous browser options. But it is impossible to conclude who will be the overall winner.
Browsers are a great utility tool that helps you explore the widening horizons of the internet. Each Android browser is different in its way. They have various features and functionalities that help the internet user in various ways.
There are privacy-focused Android browsers; others are known to quickly download large and heavy files efficiently.
The Android web browsers like Opera, Google Chrome, Samsung Internet, Firefox, etc., are past masters for downloading large files with a dedicated download manager page to keep a log of all your downloads to date.
And in this guide, we will be covering the top 18 best privacy browsers for Android.
As we dive deeper, we will get an idea that there is more to this saga than meets the eye!
Top 18 Privacy Browsers for Android List
1. DuckDuckgo- Privacy-Friendly Browser for Android
DuckDuckGo is a popular privacy-oriented search engine in this list. Gabriel Weinberg owns it.
Although DuckDuckGo isn't strictly a browser, it offers the DuckDuckGo Privacy Essentials plugin for both Chrome and Firefox, which sets DuckDuckGo as the default search engine. There, you can see a new option called Global Privacy Control.
After enabling this option, your website will
Do not sell your data.
Limit the companies with whom you share your data.
With Duckduckgo, you can search, browse, and email more safely. This browser also blocks hidden trackers on millions of sites. In this way, you will experience anonymous searching as we don't track you.
Moreover, this DuckDuckGo privacy browser is also available for Android and iOS. Another stunning feature is that Duckduckgo deletes cookies when you close a tab by default. But it can be disabled for your favorite sites. So we can say that DuckDuckGo is one of the best privacy browsers for Android.
Is Duckduckgo recommended for private browsing?
Sure! Duckduckgo is highly recommended for private browsing.
Duckduckgo's major sources of income are through:
Affiliate programs with retailers like eBay and Amazon
What makes Duckduckgo stand out?
Since this browser doesn't save any of your information, you have to log in to your accounts again and again. To avoid this, DuckDuckGo gives you the choice to mark websites as "Fireproof".
As a result, it will store cookies so you remain logged in even after clearing all data.
Bangs are another impressive feature that we can see in DuckDuckGo. These are shortcuts that can be used to access other websites quickly.
Here are some well-known bangs:
!a stands for Amazon.
!w stands for "Wikipedia.
!eBay is for eBay.
A variety of customizable settings
In Duckduckgo, you can see a whole range of settings that you can customize according to your needs like:
General: You can change settings like language, region, infinite scroll, auto-suggest, page break, etc. from this bar.
Themes: You can choose from six different themes.
Page Appearance: You can modify options like font type, font size, page width, alignment, background color, etc. from this bar.
Privacy: You can either enable or disable redirects, set video playback settings, etc. from this tab.
Who loves this browser?
As this browser is highly geared towards high privacy, anyone who wants to avoid annoying ads or trackers following them around the Internet can use DuckDuckGo.
Those who need a lightweight browser with low RAM consumption and high speeds might opt for DuckDuckGo.
It offers you high-grade security without you having to compromise on anything at all!
✓ Excellent privacy
✔ Easier to use and lightweight
✔Strict privacy policy
✔Privacy grading feature
Pros of DuckDuckGo
Weather data, extra tools for developers, loan calculators, and more can be accessed easily.
There is no profiling or targeting of search results.
Night mode.
More privacy.
Website protection.
Private search.
Transparent and unbiased search results.
The Fire Button for clearing history and running tabs.
HTTPS everywhere encryption.
Cons of DuckDuckGo
It lacks desktop sync compatibility.
No extensions.
Only one Search Engine.
No History and a Private Tab.
2. TOR Browser- Best Anonymous Privacy Browser for Android

The Tor Browser is a web browser that works to protect your online privacy and identity by anonymizing your web traffic using the Tor network.
TOR stands for The Onion Router. It is a free and open-source browser based on Mozilla Firefox that is run by volunteers around the globe.
Like an onion having many layers, the TOR browser encrypts your data in layers and then transmits it over the network. TOR will make you feel completely anonymous. It provides a disruption-free privacy browsing experience for its users.
Currently, TOR has 7000 servers (nodes) around the world. As it is a volunteer-run browser, you can also become a volunteer and serve as a node!
TOR's revenue comes from:
Donations by users (like you and me)
Various institutes
Foundations and Agencies that strive to keep the TOR network alive so that the internet continues to be an anonymous place for everyone.
How does Tor Browser work?
All your web traffic is anonymously routed through the Tor network. Tor comprises a three-layer proxy, like the layers of an onion (hence Tor's onion logo).
After connecting at random to one of the publicly listed entry nodes, TOR bounces that traffic through a randomly selected middle relay and finally spits out your traffic through the third and final exit node.
Don't let the technicality get to your head. Let's make it more clear.
If you want to visit the website SPLVPN.com,
Just type the website address in the TOR search bar and hit the search button.
Now, what happens is that, after encrypting your data, TOR sends it to the final destination through the secure TOR network.
As the TOR network consists of thousands of nodes (i.e., servers), your data has to bounce through a minimum of three TOR nodes to reach its final destination.
Every server has a unique IP address so that the location of your data constantly keeps on changing. This is how TOR protects your identity and nobody can track you.
Feeling great over it, right?
What makes TOR unique?
TOR is the only Android browser that comes with already installed add-ons like:
The Default Theme Extension
HTTPS Everywhere Extension – TOR forces websites to use HTTPS. Unless it doesn't load them, thereby ensuring a secure connection.
No Script Extension –TOR keeps you safe from JavaScript attacks by blocking JavaScript
Disadvantages of TOR
We can't bear the terrible speed of the Tor Browser!
Streaming is not possible with slow speed and lots of fluctuations.
As TOR takes up a lot of your resources, both bandwidth and RAM are required heavily to work.
No Encryption on the Exit Node
Although TOR encrypts your data, it doesn't ensure encryption between the exit node and the destination server. This might cause our eyebrows to raise as we value our privacy.
As it doesn't encrypt, it is an easy task for anyone who manages the last node to find out what websites you are visiting.
However, that information can't be used to trace your identity.
Happy news!
Since the TOR Browser is infamous for all the wrong reasons, many websites actively block it.
If you are a TOR user, either you can't access those websites, or they consider you a bot and disturb you with annoying captcha tests now and then.
Although privacy standards remain the same, it is impossible to see the TOR circuit in the Android app.
Sad news for Android users!
The TOR circuit is available only in the desktop version, where you can view the three nodes where your information passes through, along with their IP addresses.
The location cannot be confirmed
TOR users are unable to decide the location of the exit node. It chooses on its own how and where our data will bounce before getting to the destination server.
Another drawback with this browser is the language problems. As your IP keeps changing through different countries, some websites might mistake you to be a local user so that they convert their content into the local language used in that country.
Yes, it's a headache for us!
Point to Note: Be aware that law enforcement and ISPs can easily find Tor users, even if they don't know what you're doing on it.
To avoid their surveillance and for maximum security, it is better to connect to a VPN first, and then start up the browser.
Read more on Tor vs VPN: What They Do and Which Is Better?
3) Firefox: The Most Stable Browser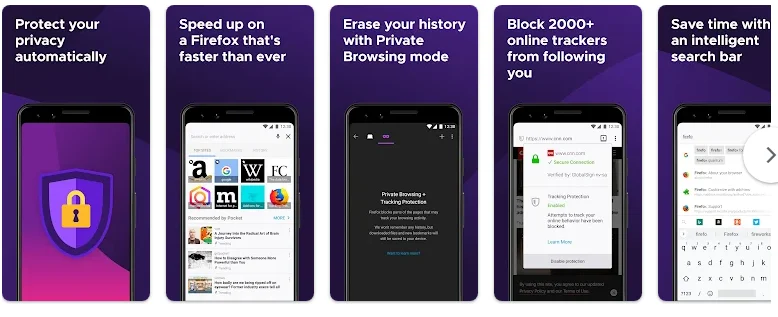 Mozilla Firefox has been a popular name over the years among web browsers. As it is very stable, you'll rarely experience a freeze or crash. Firefox was created to secure our privacy, with tracking protection that automatically blocks parts of web pages trying to track browsing activity.
Additionally, its search tools are well advanced enough to guess what you might be looking for based on past searches, and there are plenty of easy shortcuts already implemented.
For easy browsing syncing, you'll need to use Firefox on your device, and that's not as good a browser as some alternatives.
Pros of Firefox
Very reliable
Secure and stable
Convenient
Cons of Firefox
Can slow down the phone.
You'd better use Firefox on PC or Mac for full benefit.
What makes it unique?
Many Android web browsers, except Firefox, are based on Chromium, the open-source version of Google Chrome, which means they all load web pages the same way.
They are pretty equal in performance, have the same quirks, and so on. Firefox is one of the few browsers on Android with a custom rendering engine.
Features of Firefox
Rendering engine GeckoView
Dark mode Yes
Desktop sync Partial support
Extensions Yes
Android Autofill Yes
Private browsing mode Yes
Blocks third-party tracking cookies by default Yes
Blocks crypto mining scripts Yes
Blocks social trackers Yes
A new Browser version for Android
Mozilla released a completely modified version of Firefox for Android a couple of years ago, and overall, this new release is indeed great.
The new version also gives users a chance to install any extension or add-on by simply switching to the nightly version of the browser.
On top of that, Firefox for Android is snappy.
Compared to the previous versions, it comes with new features like much-improved scrolling, a bottom address bar (for ease of use on tall phones), and optionally syncs almost all of your data with its desktop pendant.
By default, it also blocks tracking scripts even if you can choose to lift or tighten restrictions as you wish.
4. BRAVE Browser: Fast, Dependable, and Secure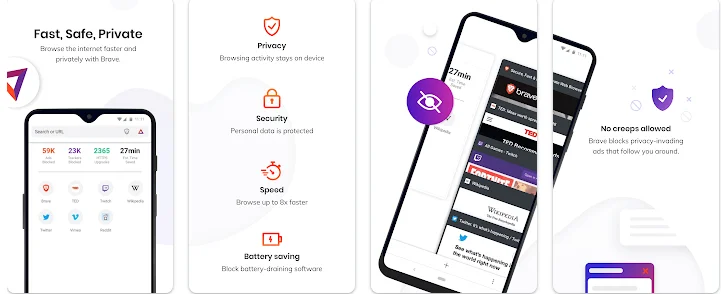 Brendan Eich (the creator of JavaScript and co-founder of Mozilla) created this free and open-source browser called Brave.
It is three times faster than Chrome and packed with features to enhance your online experience. If you need online privacy and security, Brave surely should be your go-to browser.
While many other apps are bent on stealing your information and making money out of it, Brave marks itself as a privacy-first browser.
Brave is available on almost all other relevant platforms and optionally synchronizes data across all your installations, including its cryptocurrency wallet that you can use to pay creators and websites you care about.
Moreover, anonymous surfing is possible through a native Tor connection, and the browser is the first to support the decentralized HTTPS alternative IPFS.
FEATURES of BRAVE Browser
Rendering Engine Blink
Dark Mode Yes
Desktop Sync Yes
Extensions No
Android Autofill Yes
Brave: The Holy Grail for privacy-minding folks
Brave is a smart choice for privacy-minding folks as it is good for ad-blocking, incognito windows, private search, and even VPN.
In this way, you can safely visit any site without any interruptions from creepy ads and trackers.
As a result, your web pages will load faster.
What more? see the important features of Brave the best privacy browser for Android in 2022.
Extra Security Features of Brave
Invasive ads blocked Yes
Cross-site trackers blocked Yes
Cookies blocked Yes
Fingerprinting blocked (cookie-less trackers) Yes
Malware & phishing protection Yes
Protections against bounce tracking Yes
Anonymized network routing (Tor mode) Yes
The Brave browser is now available in about 160 languages, including four different dialects of Chinese.
Also, Brave Search is currently available in English, French, Japanese, Spanish, and German.
Soon, it will support many more languages.
Let's see!
5. The Opera Web Browser
Opera is one of the oldest web browsers and was born in Norway in 1994. The Windows version of Opera first appeared in 1996.
The year 2010 sees a modified browser incorporating aspects of Google's Chromium platform and generally starting to resemble the search engine's offering more closely.
However, in 2016, a Chinese company purchased this browser. It was a shock to some people, as China is usually known as a bastion of digital security.
As it has a built-in ad blocker, Opera effectively gets rid of intrusive ads while maintaining your privacy.
Moreover, it has a built-in VPN that further enhances your privacy and security while browsing.
Read more: Internet Censorship in China: How to Bypass the Great Firewall of China with a VPN
Security Features of Opera
Private browsing Users can use a version of Incognito mode to disguise their local activity, as you might expect from a Chrome clone. This permanently deletes cookies, cache data, and history.
Password manager add-ons: Good add-ons, like Bitwarden, seamlessly integrate with the browser and offer additional password protection.
Security badges: The security badge icon is helpful to know which websites you visit use HTTPS and other forms of certification.
Google safe browsing: Opera uses the Google connection to mine a massive database of known attack sites, assisting in the prevention of phishing.
Crypto-wallet: Android users can make virtually anonymous mobile payments by connecting their cryptocurrency reserves with the browser.
Free VPN: Opera VPN was first offered as a standalone service but is now available as a proxy in the form of an extension that doesn't work with other browsers. Its first Android version was released in March 2019.
About Opera Web browser
Founders Jon Stephenson Von Tetzchner and Geir Ivarsoy
Private browsing Yes
Custom extensions Yes
Open-source No
CloudSync Yes
Available on Windows, macOS, Linux, Android, iOS, portable USB, basic phones
6. Google Chrome: Popular Web Browser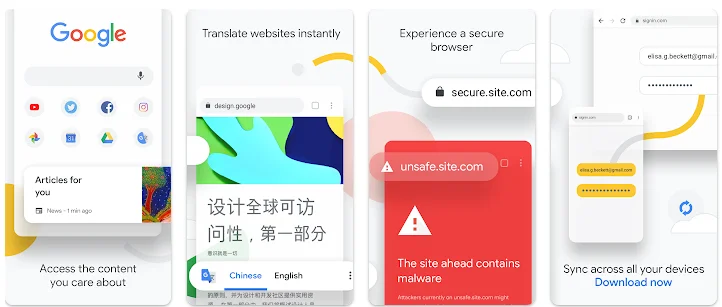 Being a Google product, this browser is frequently pre-installed on Android phones. This is also the fastest browser for Android. Chrome is also supported on both PCs and Macs.
Google Chrome is ranked 13th in a survey to find out the best Android web browser. It outwits Dolphin, as Dolphin is ranked only 17th.
Google always keeps an eye open if you happen to be browsing any dangerous sites.
If it finds anything suspicious, Google will give you a warning and thereby block you from accessing them.
Chrome also consists of Google Translate, which enables you to quickly translate entire websites.
Pros of Google Chrome
Very fast.
Supports the latest web standards.
Syncs with the desktop browser.
Google Product.
Very user-friendly UI.
pre-installed on most Android devices.
Use websites offline.
No competition for Chrome on Android.
Easy to use.
Built-in Google Translate.
Cons of Google Chrome
Quite a large installation for older phones.
More reliant on resources.
What hurts the user experience is that Chrome supports Google's products and tries to satiate Google's hunger for data.
It lacks ad-blocking features.
It is slightly heavier than other options.
Excessive permission.
The Absence of a download manager.
It does not support all Chrome extensions.
Features of Google Chrome
Personalized search results.
Autofill.
Incognito browsing.
Safe browsing.
Rendering Engine Blink
Dark Mode Yes
Desktop Sync Yes
Extensions No
Android Autofill Yes
7. Dolphin: Gesture-friendly Web Browser for Android
Dolphin is a gesture-based web browser. It browses websites using gestures. Let's say you want to go to Bing. Simply draw the letter B.
Alternatively, if you want to use DuckDuckGo, draw the letter D to navigate to that site.
Simple!
Dolphin also allows you to navigate the internet by speaking. Simply ask it to search the internet or share content on Facebook or other social networks. It allows you to browse websites by using gestures.
For example, you can use Bing by drawing the letter B, or Duckduckgo by drawing the letter D.
Other features include Flash support, an ad-blocker, and incognito/private browsing.
Multiple add-ons, such as easier ways to browse Dropbox or Pocket, can also be installed.
Features of Dolphin Browser
Gesture Controls
It's an easy way to open your favorite websites without having to type in a link or look through your bookmarks.
Gestures can be set up automatically, so you simply draw a quick design that represents a website. It is also possible to scroll up or down a page by drawing arrows.
Voice Search
As typing is a tiresome activity, Dolphin allows you to search through your voice.
Just shake your phone and you can speak to Dolphin Browser to search for anything online rather than typing. It is also easy to share content by saying "share" or open new tabs by saying "new tab."
Save Functionality
Saving websites to other services like Evernote or Box is easy with Dolphin Browser as it has built-in functionality for clipping content to Evernote, making it simple to add tags and find it later on.
Sync Support
As in Safari and Chrome, Dolphin also has Sync support, so you can pick up where you left off on a PC or Mac.
Flash Content
If you are an Android Dolphin Browser user, you can view Flash content there.
Tabbed Browser
Do you want to use tabs to switch between different websites?
No need to worry!
Dolphin Browser offers this feature, making it feel more like a regular desktop browser than a limited phone web browser.
Add-on Support
Looking for extra features?
The Android version of Dolphin allows you to download extra add-ons which make it possible to do things like save a website as a PDF at the click of a button or switch to a text-only interface for easy reading.
Pros of Dolphin Browser
Fast at opening graphics folders.
Immensely configurable.
Can split views.
Integrated terminal.
It has a refresh option.
Auto mounts flash drives.
Easy to extend with plugins.
It fully supports HiDPI displays.
Does not use third-party libraries.
Maintains its state.
Automatically centres items.
Cons of Dolphin Browser
Slow startup time.
Can hang on remote file systems.
The "Type" column is overly descriptive.
Poor optimization on later versions.
Fewer personalization options.
Can't perform ROOT actions without a terminal or switch to another file manager.
8. Microsoft Edge
✓ Chromium-based
✓ partially open-source
✓ No user data collection
After Internet Explorer, Microsoft's next venture is to make the best browser of choice among Windows users.
That is none other than Edge!
Microsoft launched Edge in 2015. Besides Windows, Edge is currently available on Mac, Android, and iOS. All Edge users will experience more power at their fingertips.
Features of Microsoft Edge
You can see the often-needed browsing features in Edge's bottom bar:
Customized tab page.
Organize your research with Collections.
Save time with a smart copy.
High Page loading speed.
Take back control with tracking prevention.
Password Monitor for preventing password theft.
Maintain truly private browsing and searching with enhancements to InPrivate mode.
The Immersive Reader enables everyone to learn and benefit from the web.
It provides the best immersive viewing experience in 4K and Dolby Audio.
Easy to switch.
Collect rewards using Bing.
Integration with Microsoft's family of management tools.
Edge always maintains its quality while releasing new features.
To make it more clear, all the features will be tested in the Insider channels, starting in Canary and progressing to Stable only when they are satisfied with the level of stability and quality.
The Edge always lives up to the expectations of today's savvy web surfers. The Edge will never let you down.
You will be amazed to see its great performance, world-class speed, website compatibility with your everyday sites and extensions, more control over your data, and better ways to connect to and make sense of information.
Rendering engine Blink
Dark mode Yes
Desktop sync Yes
Extensions Rudimentary (some "content blockers" are supported)
Android autofill Yes
9. Naked Browser
Experience the pleasure of pure internet browsing with the Naked browser, without demanding high-end processing or huge RAM sizes.
Hassle-free web browsing is everyone's dream.
The Naked Browser succeeds in providing that. Even if you are worried about limited disk space and processor capabilities, you can enjoy hassle-free web browsing on your low-end Android phone with Naked Browser.
The speed and efficiency of Naked Browser
Fast browsing speed and high efficiency are the two areas in which the Naked browser proves its excellence.
You feel overwhelmed by the lightning-fast speed with which it opens websites.
The browser is also efficient in opening multiple tabs simultaneously. All you have to do is just click on the green "+" sign to open the new tab.
You will no longer experience any crashes since the browser is designed to restore the previous session.
Secure browsing through the Naked Browser
Secure browsing on Android devices is possible with the Naked Browser.
The Web View feature in the naked browser helps in handling cookies, passwords, data requests, and other similar things to maintain a secure browsing environment.
On top of that, Naked Browser is free and is not ad-supported. If you truly want to enjoy better browsing with Naked Browser, even more, use it together with an ad blocker like AdLock.
It was specially designed for Android and blocks ads throughout your device on any app that has internet access.
Customized browsing on the Naked Browser
The Naked Browser allows you to browse websites in full-screen mode, just like you would on a desktop computer.
You have to use the desktop mode for this! This browser will open pages without loading images. The feature that aids in this is block images.
Needless to say, the feature improves the performance and speed of browsing.
The Zoom reflows text feature is also noteworthy because it adjusts the text size according to the zoom level of the screen.
Naked Browser – Some extra points to remember
Just a single tap is needed to close a tab.
Zooming in and out can be done with a double tap, followed by swiping.
Easy to access Tab history and recent history.
Needs a small installation space, unlike the popular browsers.
Free Download without any unpleasant ads.
Advantages of Naked Browser
Works with all versions of Android phones.
Minimalist user interface.
Disadvantages of Naked Browser
Not very accessible to inexperienced users.
Very plain.
10. Samsung Internet Browser: Simple, Fast, and Reliable
⊕ More Comfortable
⊕ Better integrated with Samsung devices
⊕ Quick Menu
⊖ Can't sync with other browsers
The Samsung Internet Browser is well-known for its safe, secure, and speedy web browsing. It can be directly downloaded from the PlayStore or GalaxyStore.
What is more interesting about the Samsung Internet browser is that you can browse the internet with VR (Virtual Reality).
Moreover, this browser was mainly created to protect your security and privacy while browsing the Internet.
Features of Samsung Internet Browser
DuckDuckGo: The presence of the privacy-focused search engine DuckDuckGo enables you to quickly find the content you need the most.
Contents Blockers: Content blockers help remove unnecessary content from cluttering your screens while browsing. Disconnect.me is a content blocker that helps to block harmful ads and tracking cookies to help protect your privacy online. After enabling this content blocker option, you can see how many items have been blocked with the new content blocker Status UI.
360 Video: This option allows you to view immersive videos right in the browser without needing to wear a GearVR headset. You can also swipe to pan 360 videos to look around.
VR: Browse the web with Virtual Reality!
For this, you have to place the phone into the Gear VR headset when you are viewing a web page, and it will open in Samsung Internet for Gear VR.
Tab Swipe: You can swipe left or right in the URL bar or bottom toolbar to navigate to your previous or next tab.
Video Assistant: By using Video Assistant, it is easy to switch between various viewing modes while watching videos. A pop-up player helps you browse the web while watching videos.
DeX desktop experience: Samsung Internet Browser is now optimized for desktop browsing with the DeX dock.
In addition to these, there are features like Web Payments, Close By, QR code scanner, and Progressive Web App indication badge.
11. Ecosia: Browse to plant trees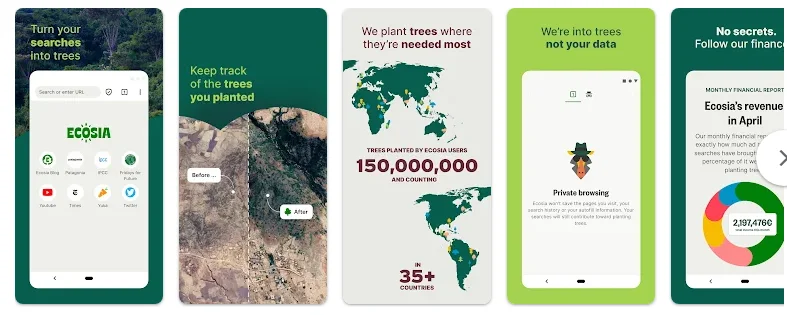 ⊕ Chromium-based Android browser
⊕ Fast and secure
⊕ Personal mode
⊕ Bookmarks
⊕ The History Section
⊖ Very few features than some other browsers
Ecosia is a charitable browser that made its entry into the website world in December 2009. About 20 million people in the world are ecosia lovers.
What makes Ecosia unique among other browsers is that trees are planted in exchange for your use.
To make it more clear, Ecosia is sustaining our Earth while you search through it. Ecosia utilizes money from the search to fund reforestation in a bid to empower communities around the world.
Sounds great, doesn't it?
Ecosia allows you to choose whether to personalize your search results or not. Switching personalization off is now easy with Ecosia.
Privacy-friendly Browser
Ecosia values your privacy too. It is one of the most private search engines in the internet world.
This means that Ecosia doesn't create your profiles based on your search history but anonymizes all searches within a spam protection period of 4 days.
On top of that, Ecosia encrypts all searches to protect them from eavesdroppers.
Also, this browser doesn't use any external tracking tools and withdraws itself from selling your data to advertisers.
Among the companies that make as much money as possible for their founders and shareholders, Ecosia is an odd one.
Ecosia, in contrast, is a purpose-driven, financially transparent web browser that works to regenerate our planet by planting trees where they are most needed, without compromising on its ethical standards.
Undoubtedly, one can say that Ecosia is an eco-friendly web browser.
Can you even think that every search with Ecosia absorbs about 15% of all global CO2 emissions?
Yes, this is a proven fact!
12. Kiwi Browser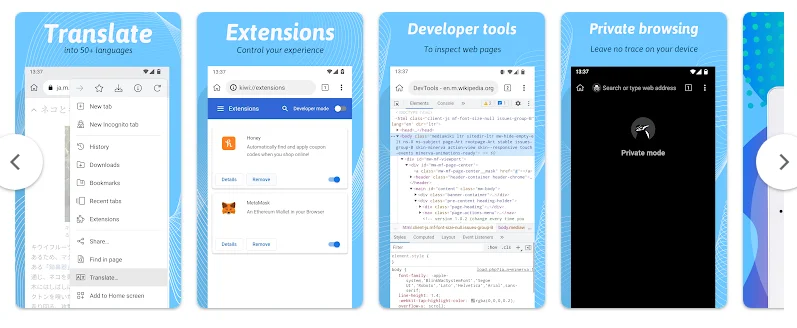 Arnaud Granal was the founder of Kiwi and was later developed by Geometry OU. The Kiwi web browser is based on Chromium and WebKit. This browser is a fully open-source Android web browser.
It is much faster than Google Chrome's Android browser. Kiwi is usually considered a fast and quiet browser.
Quiet in the sense that Kiwi allows you to browse the internet, read the news, watch videos, and listen to music without being interrupted.
Features of Kiwi Browser
EXTENSIONS: Chrome desktop extensions are supported.
AD and POP-UP BLOCKER: The Powerful Ad and Pop-Up Blocker in Kiwi helps to browse without distractions.
UNPARALLELLED SPEED: Kiwi gives you an uninterrupted browsing experience with the automatic blocking of intrusive ads.
Enjoy blazing-fast page load speeds!
NIGHT MODE: Beautiful, customizable night mode.
BOTTOM ADDRESS BAR: Avoid straining your fingers as Kiwi is equipped with the optional bottom address bar and support for easy one-handed usage.
PRIVACY: Kiwi protects your privacy by hiding content and preventing screenshots in Incognito mode.
Let's make privacy issues a matter of the past with Kiwis.
In addition, Kiwi offers a ton of customization options, including the ability to move the address bar to the bottom of the screen, add a hand button to scroll to the top of the screen, swipe from the edge of the screen to navigate in the browser, and view websites in a more streamlined manner.
Sounds great, right?
13. Vivaldi : Privacy Browser for Android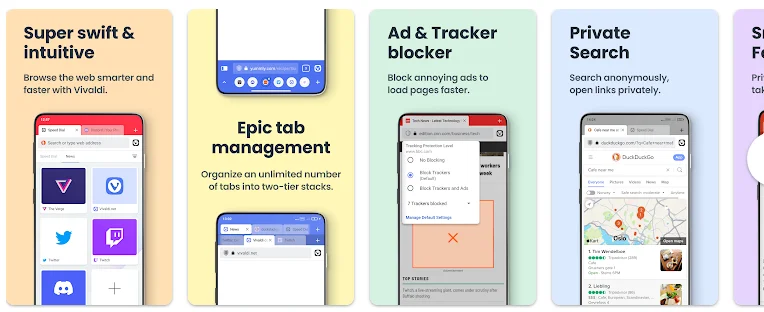 ✓ Highly Customizable
✓ Chromium-based
✗ Minor telemetry issues
Vivaldi is an easy-to-use browser developed by Vivaldi Technologies, a company founded by Opera Software.
With Vivaldi, you can tweak and customize every setting and stay secure as it doesn't track you.
Many cases of cyber-attacks and security breaches teach us to protect our personal information from identity theft, data breaches, and other threats.
Are you looking for a web browser to secure data? Here comes the Vivaldi browser.
Its collaboration with third parties helps block intrusive ads and cookies and protect against phishing, malware attacks, and more.
Vivaldi is a browser with so many privacy settings.
Features of Vivaldi Browser
Speed Dial: For better website navigation.
Tab Stacking: group-specific tabs into a stack.
Quick Command: A better option for keyboard and shortcut users.
Note tool: Jot down what's on your mind while browsing with the Note tool.
Gesture-based shortcuts: For easy browsing.
Side-by-side browsing: This helps to view the sites side-by-side in the same browser window.
Tab thumbnails and the Rewind button.
What we like in Vivaldi
faster than Chrome or Firefox.
uses all of Chrome's extensions.
very customizable.
fairly sleek design.
built-in notepad and text editor.
What we don't like in Vivaldi
reduces the screen space by default.
can't export bookmarks.
14. Puffin
What makes a browser perfect?
A combination of strong security, compatibility, the most user-friendly UI elements, and solid features. In that sense, Puffin is a better option.
Since its birth in 2010, the Puffin browser is one of the best privacy browser for android has gained a huge fan base among privacy-oriented users looking for ways to enhance their browsing experience.
The Puffin Browser works uniquely by rendering websites server-side instead of client-side, meaning users won't be directly exposed to potentially malicious content online.
In short, Puffin renders websites on its cloud. But in other browsers, whenever you type a URL into it, a web server sends a folder with HTML, CSS, and JavaScript code to the user's browser.
After that, the browser engine converts these elements into the webpage you're trying to view.
This helps users in a couple of ways:
Reduces the risk of infection with malware or potentially unwanted programs from shady websites.
Encrypted data on Puffin Cloud.
Speedy website loading.
Features of Puffin
Top-notch security.
90% bandwidth savings.
Protected and encrypted.
Despite its remarkable security features, Puffin is a bare-bones browser. Many basic features that are now standard for modern desktop and mobile browsers are missing.
Another drawback is the lack of a way to sync browser data between devices.
Although Puffin is available on multiple desktop and mobile platforms, it isn't capable of synchronizing browser data like bookmarks and passwords.
Extensions are also unavailable.
As Puffin is based on the Chromium Blink engine, it is not capable of downloading Chrome extensions of any kind.
Puffin users will simply have to satisfy themselves with basic browser capabilities in exchange for a heightened standard of security.
Pros of Puffin
Excellent security and privacy.
Data saving mode in the mobile app.
Cons of Puffin
Slow
A few features
No extensions
Requires subscription
15. Epic privacy browser
✔ Chromium-based browser
✔ Blocks ads, RTC calls, trackers, and crypto miners
✔ Disables cookies, cache, and trackers to prevent data collection
✔ Supports a selection of secure browser extensions
✔ Works on Windows, Mac, Android, and iOS
The Epic Privacy Browser never has access to your search history. As a temporary procedure, it stores your browsing activity directly on your device and automatically logs you out of all accounts when it's not running.
Besides that, it also turns off auto-fill, sync, and spell-check features since they're based on your data.
The browser also blocks all ads and web trackers, and none of your browsing activity is shared with third parties. That means, your search history will remain until you close the browser.
Your browsing history, login information, databases, or other information are also safe under Epic.
Epic automatically enabled all its privacy settings, making it a contender for secure Android browsers.
By submitting "Do Not Track" requests, it blocks cookies, advertisements, data-tracking site analytics services, and searches using DuckDuckGo.
Epic promises extreme privacy by strictly eliminating auto-syncing, spell-check, auto-fill, and plug-ins.
These functions are either disabled by default or just unavailable.
The Epic Privacy Browser supports some pre-installed extensions to get rid of unsafe extensions that track your device. The built-in proxy is one of its most useful extensions. It has servers in the US, Canada, France, Germany, and India.
What does Epic stop?
Crypto mining
Adware
Fingerprinting
RTC calls
Stay secure!
The browser keeps your information secure as it is protected from cryptocurrency hackers and data analytics.
Open-source restrictions
As a part of security, Epic only lets you access the files if you contact the team directly and provide information on your background first.
However, it deters developers from fixing security bugs and slows down patch releases for the browser.
16. Bromite Privacy browser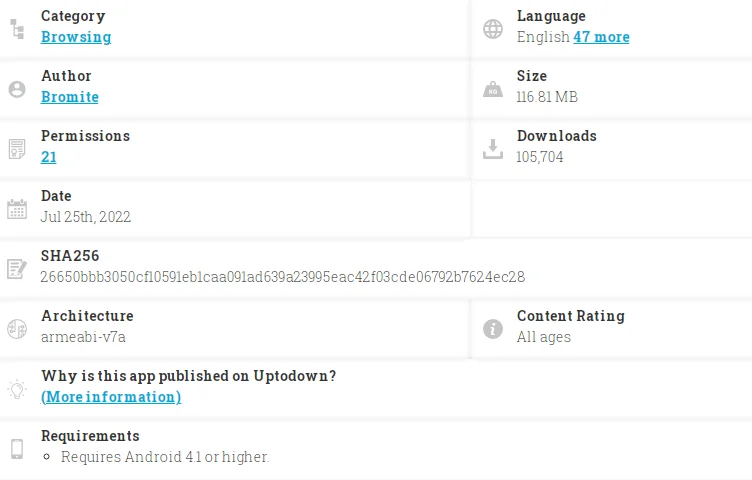 When compared to Chrome, Bromite is the best Android web browser. This Chromium-based browser is available only for Android devices (no desktop support).
Some great features are hidden by default in this browser, including ad-blocking and various privacy enhancements.
Highlights of Bromite
a no-clutter browsing experience is given without privacy-invasive features and with the addition of a fast ad-blocking engine.
Minimal UI changes are applied against the notion of "browser as an advertisement platform".
All patches are published under GNU/GPL v3 to operate with other open source projects' usage.
Bromite is only compatible with Android Lollipop (v5.0, API level 21) and higher.
Pros of Bromite
Values your privacy much better than all other Chromium-based browsers
Optimized RAM usage
Outstanding bookmark management
Keeping up with the latest Chromium releases
Developer options
Customizable AdBlock filters
Videos can be played in background tabs and disables pause on switching tabs.
Click-tracking and AMP are removed from search results
Supports DNS over HTTPS
Cons of Bromite
Still contains spyware
Not secure
A Big target for hackers
Drains battery life
17. Maxthon-For seamless browsing on Android
The Maxthon web browser is one of the highest-rated Android browsers in the browser market.
Also, Maxthon has a higher rating when compared to other browsers on the market, such as Google Chrome, Mozilla Firefox, Opera, Opera Mini, Internet Explorer, Dolphin, UC Web, and Boat.
Maxthon Cloud Browser is the first multi-tab Android browser that will help enhance your cyber and browser security.
Maxthon is a state-of-the-art, multi-platform web browser that can load web pages more quickly than any other browser. It regularly outscores other top browsers like Chrome and offers users a seamless web browsing and sharing experience.
In short, a fresh and original browsing experience is a guarantee!
We are fed up with a lot of ads on the web nowadays, right?
Due to its interruption, we find it difficult to read any web articles.
Whenever we accidentally click on such suspicious pop-ups, it will ultimately bring the virus to your device.
The Maxthon browser will help you in such situations, as it filters ads and focuses on the content. It has a built-in ad blocker so that you can successfully block annoying banners, pop-ups, malware, and viruses.
Why choose Maxthon?
There are plenty of reasons to choose Maxthon over other web browsers.
Let's see what they are:
It consumes less RAM and cache when compared to other browsers.
Fast and more attractive.
A seamless browsing experience.
The integrated ad blocker is powered by Adblock Plus.
Numerous sync options
Prevent spam by using UUMail
Cloud syncing: All your data, bookmarks, and history between your home PC, work PC, and Android mobile phone can be synced.
Maxthon Cloud comes with Maxthon's innovative Cloud Services, including Cloud Tabs, Cloud Push, Cloud Download, and bookmarks/favorites syncing.
It is an eye-catching web browser with its cool design and out-of-the-box features like Super Gestures, Reader Mode, App Center, and more.
Features and Benefits of Maxthon
Quick Access: Add your favorite sites to the speed dial.
News Bites: Add your favourite media on speed dial.
The Advanced Gesture feature creates your touch screen commands so you can surf with your fingertips.
My Cloud Tabs enables you to resume browsing where you left off by automatically syncing your tabs across devices for a seamless browsing experience.
Cloud Push lets you send texts, images, websites, links, and tabs to any device with a Maxthon account.
Cloud Download: You can upload and download any file type to your free, secure cloud storage space.
Sharing: Sharing mobile content through Facebook, Twitter, email, SMS, and other social media channels is super easy.
Favorites Syncing: You can take your bookmarks or favorites wherever you go.
Private Browsing: Surf the web without storing any browser history.
Reader Mode: View articles without any strain by adjusting font sizes, formatting, and removing ads.
Tab Browsing: Powerful tab management that maximizes the use of your mobile screen.
Magic Fill: Automatically fill out forms with Magic Fill.
Add-ons: Enhance your browsing experience with small but useful add-ons.
In addition to these, Maxthon is a box of infinite wonders like powerful personalization, text reflow/auto-wrap, Flash video support, advanced gestures, Screenshot Assistant, and Bookmark Backup.
18. Apus: Lightweight and Powerful Browser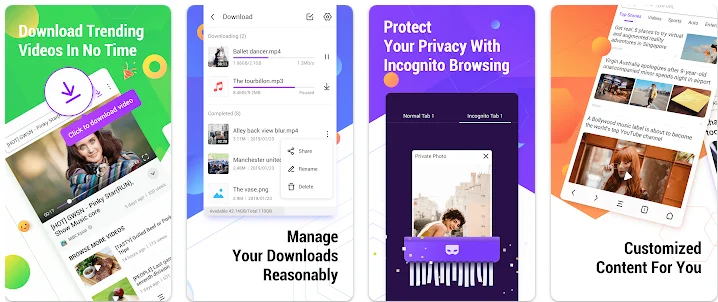 ✔ Smallest browser (less than 3 MB).
✔ Fast download of videos online.
✔ Freely browse the most recent news.
✔ In the incognito browser, you can block ads on websites.
✔ Even on low-end smartphones, browsing is smooth and fluid.
✔ Faster browsing with slower internet.
✔ Well-organized tab management.
✔ Compatible with Android.
Apus is the choice of over 10 million users. In simple terms, Apus can be defined as FAST, SAFE, LIGHT & PRIVATE!
This is one of the best Android web browser apps, which allows you to browse fantastically and easily.
Features of Apus browser
Speed mode (renders pages faster).
Fullscreen (hides notification bar).
Desktop site.
Privacy sites (pattern lock websites).
Offline pages (saves pages offline).
Night mode (dark theme for dim light conditions).
Your browsing history is erased with a single click.
Supports HTML5.
Game mode, incognito, and no images.
Wrapping up
Choosing the best security and privacy-focused browser for Android is one of the biggest issues facing digital nomads today. Always choose a browser according to your needs. It is best to do some research to find out what works best for you.
If you are looking for a faster browser and don't care about the memory-hogging issues, then Chrome is the way to go!
For developers who tinker around with addons or Javascript, Firefox is a better choice. For the rest of the genre, you could either opt for Opera or Dolphin.
Here comes the end of the list of some of the best secure Android privacy browsers for 2022. Many of these are superior to the stock web browser in terms of rendering engines, responsiveness, and features, so you may find your ideal companion.
Choose wisely!
Use VPN with browsers for safe and privacy browsing
We have seen that several of the browsers recommended above will provide you with a secure and private browsing experience on your Android device. But, that may not encrypt your traffic.
Bonus tip: There is no other alternative to using a VPN for private and safe browsing on your Android smartphone.
Instead of fussing with complicated browser settings, simply click "connect" and our VPN will protect your security and privacy as you use the internet on any device.
SPL is the only VPN available in the VPN market known for its tactic of protecting your privacy. It is the best free Android VPN with a zero-logging feature.