Internet Censorship in Saudi Arabia 2023
Saudi Arabia, the Middle East's second-largest country, entered the internet like a small fish.
Do you know?
The people in Saudi Arabia are mostly using social media platforms on the internet.
On average, they spend approximately 3 hours on social media on a daily basis.
Here we are discussing Internet censorship and Internet restriction in Saudi Arabia (KSA)
In the previous year of 2021, freedom on the net was stunningly low at a rate! Here we are discussing internet censorship in Saudi Arabia in 2022 and detailed statistics.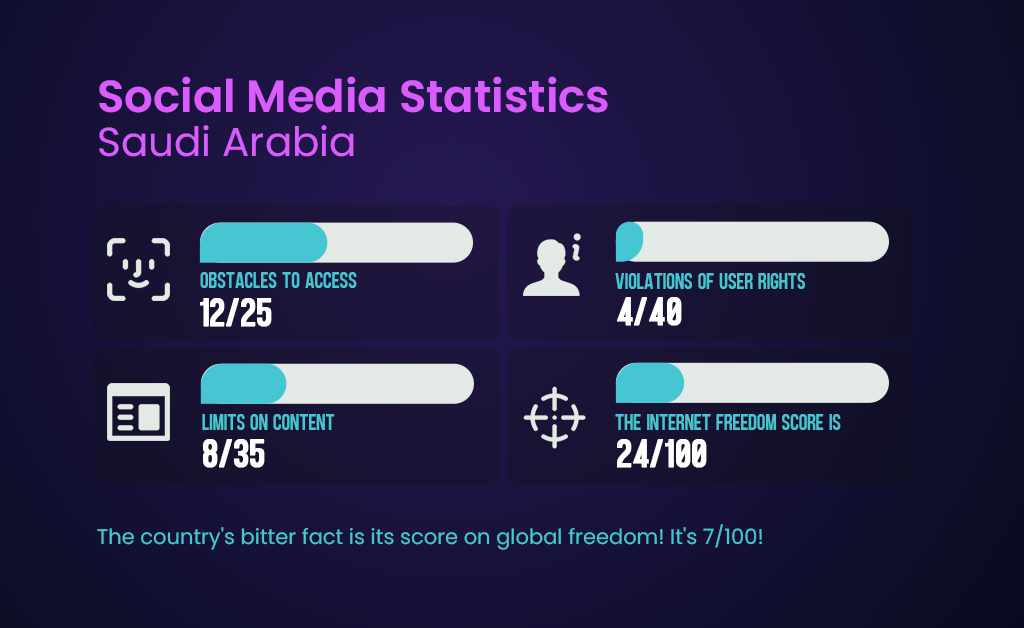 The country's bitter fact is its score on global freedom! It's 7/100!
The network is not restricted! But social media sites and other websites are blocked. Many users were arrested in the country.
The only way to access any content in Saudi Arabia is by using a reliable VPN. Almost everyone in the country has started to use SPL VPN. It's absolutely free and unlimited with 1000+ servers around the globe.
Why should we miss it!!!
It also offers unlimited bandwidth. You can access everything on the internet. The military-grade encryption offered by SPL VPN makes sure that your data and online identity are safe!
Saudi Arabia is not included in the long list of countries that value freedom of speech and the right to information. Switching to the best VPN is the only solution left for you.
Saudi Arabia's internet freedom remains severely curtailed. The Saudi government is working to increase high-speed internet access across the country, but the kingdom's restrictive absolute monarchy controls the kind of content that may be found online.
Helpless, right?
The authorities employ significant censorship and monitoring technologies, as well as a supportive network of bots and accounts that distribute pro-government messages and target perceived dissenters.
Activists, journalists, government officials, and other professionals point to a situation of fear in which many feel driven to self-censor or engage in a pro-government internet debate.
Critics, activists, and others who are suspected of expressing opposition online risk harsh penalties, including harassment and arrest.
Saudi Arabia ranked 161st out of 173 countries in freedom of the press.
Tightened Internet Restrictions in Saudi Arabia
Reporters Without Borders, a free press advocacy group, branded the actions of the government as "relentless in its censorship of the Saudi media and the Internet" in 2014.
Unfortunately, free speech restrictions are still breathing in the country.
Ambitious connectivity targets were part of Saudi Arabia's "Vision 2030" plan to boost the Kingdom's international competitiveness, attract foreign investment, and diversify the government's non-oil-based earnings.
Good aims!!
These aims included boosting fixed-line broadband penetration from 44% to 80% in urban areas and improving wireless broadband penetration from 12% to 70% in rural areas.
It smells better, right?
Despite pledging to vastly improve Saudi Arabia's general connectivity, the Saudi government has implemented strong restrictions on internet-based free speech, censoring tens of thousands of websites and punishing individuals who criticize the Kingdom's leadership.
The Times, Fox News, the Los Angeles Times, the New York Post, and the Canadian Broadcasting Corporation had a sudden block in the category of Foreign News Services.
Local sites like arabnews.com were also blocked in Saudi Arabia.
Still, you've got an option to access any content online!
That's VPN!
Choose SPL VPN to enjoy easy access in your country!
It's safe, secure, and fast in nature!
Why Is the Internet Censorship in Saudi Arabia?
The internet filtering is part of a larger program of censorship and free-speech limitations aimed to strengthen the House of Saud, the current Saudi royal family, grip on social, political, and religious power.
People are compromising!!!
Is it fair?
Saudi Arabia has no constitution and is ruled by a totalitarian monarchy in which the King exercises legislative, executive, and judicial powers.
The legislation of Saudi Arabia is based on royal decrees.
The ulema, a body of Islamic religious leaders and jurists, have direct involvement in Saudi Arabia's governance.
Ulema forced us to the internet censorship in KSA, suppressed gender and civil rights, religious and political control, and counter influences that are outside.
Threat on edge!!
What Type of Internet Content is Censored in KSA?
Reporting and depicting radical Islam and criticizing high points are restricted in the country.
They ask people to make silent on political opposition and restrict access to software that aids protesters coordinate!
Have a look at the VoIP calling facilities!
VoIP App Services in Saudi Arabia are Blocked
Traditional limits on free or low-cost VoIP call services have been placed by Saudi telecommunications firms.
These prohibitions are justified on the grounds that VoIP calls pose a danger to traditional mobile phone companies, evade the regulatory framework, and circumvent state monitoring technologies.
Something is behind that, right?
People in the country are suffering from the high rates of telecom providers.
All Saudi internet providers have restricted VoIP over Viber, WhatsApp, and Facebook Messenger since 2013.
FaceTime is a proprietary videotelephony app developed by Apple Inc. People are using this app to connect with family and friends around the world with audio and video calls. But, Saudi Arabia does not support the availability of FaceTime on devices purchased in the country.
If it was denied, Apple would have faced the consequences. Moreover, they decided to remove the FaceTime software in order to sell iPhones in the Kingdom. A compromise for the sake of business growth!
Is that powerful Saudi with their power?
Of course!
They're strict on censorship!
The VoIP functions of the Telegram and Signal messaging apps are still operational, but the apps themselves suffer from severe connection throttling, rendering them unusable in many cases.
Start to Use VPN for WhatsApp Calls
in Saudi Arabia

You're all aware that WhatsApp Calling helps you save money on international calls. When you use VoIP facilities, your profit on call rates will be stunning, and that's zero charges.

So, why shouldn't you utilize VoIP services, including WhatsApp calls?

If you use local telecom providers, you will lose a lot of money. However, having the best VPN for WhatsApp calling is the only way to go.

Saudi Arabia's ban on using WhatsApp calls is a trap!

It's a sensible policy for the government.

Don't be concerned!

Connect to a server location where WhatsApp calling is not restricted by using SPL VPN on the device you use WhatsApp on.

How easy, nah?

Here are the steps to Unblock WhatsApp Calling in Saudi Arabia

Steps to Unblock WhatsApp Calling in the Kingdom of Saudi Arabia

Unblock Skype Calls in Saudi Arabia for Free with VPN

When calling mobiles or landlines, Skype, as one of the most popular VoIP services, offers exceptionally affordable international calling rates.

Saudi Arabia restricts your right to use VoIP, but a VPN allows you to do so with just a few clicks.

Make it possible with the SPL VPN in Saudi!

We will connect you to a server location where Skype is not blocked.

You have the option of connecting to your preferred server location.

However, to get the greatest experience, choose the one that is nearest to your VoIP call recipient.

Your internet connection, including your VoIP facility, will be encrypted using SPL VPN.

YouTube is permitted in Saudi Arabia. They have, however, blocked audiovisual information that is divisive and goes against the government in some ways.

Still, a perfect limitation!

Vlogging and blogging are also permitted!

Install SPL VPN on your device and run it in the background with a simple click if any content is not available in your region.

On YouTube, you can watch anything you want without any problems.

That's SPL!

Many video games have already been prohibited in Saudi Arabia, including Grand Theft Auto V, Assassins' Creed 2, and Street Fighter V.

However, by connecting to a server location where certain video games are not prohibited, SPL VPN can access any content on the internet.

You can experience the difference with us!

Saudi Arabia regulates the internet by slowing internet connections, censoring websites, and pursuing people of interest.

Because the government owns the majority of Saudi Arabia's Internet Service Providers (ISPs), imposing these restrictions is simple.
State-controlled ISPs in KSA
There are two government-owned service providers in Saudi Arabia.
Saudi Telecom Business (STC), which is owned by Etisalat of the United Arab Emirates, and Zain, a Kuwaiti company, dominate the mobile and internet industry.
The Saudi Telecom Company is mainly state-owned, whereas Mobily and Zain are at least partially owned by the governments of the UAE and Kuwait, which all have censorship schemes similar to the Saudi government.
The Saudi government may ensure that any content accessed from within the Kingdom is censored by gaining extensive control over the corporations that provide internet access.
Are VPNs Illegal in Saudi Arabia?
Saudi Arabia lacks a comprehensive legal framework!
Their current legal system is founded on Sharia law, with royal decrees supplementing it.
Using a virtual private network (VPN) is not officially prohibited.
Here, SPL VPN is definitely the best option!
Social Media Statistics in Saudi Arabia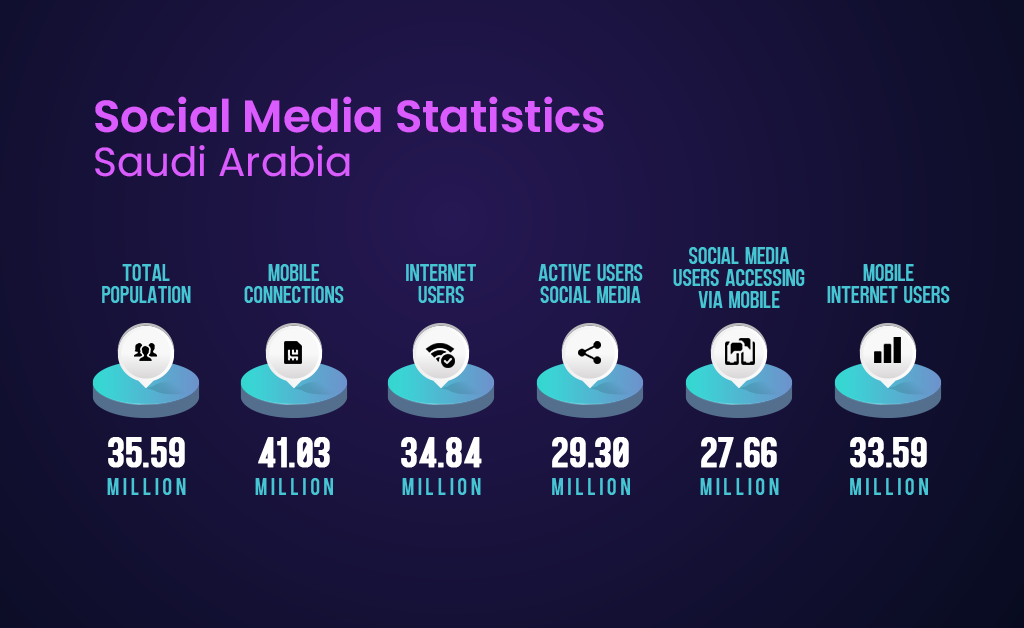 Of the total population of Saudi Arabia, 84.4% of the people are urban-based. The growth rate of the population is 1.5%.
The biggest point is that 98% of the population are active internet users. Here the internet's penetration in Saudi Arabia is clearly revealed.
As compared to the previous year, the notable growth rate is 1.5%. The growth rate is 5.4% among active social media users. Now, 82.3% of people in the KSA are active social media users.
The growth rate in each aspect shows that people have started using VPNs in Saudi Arabia to access social media and other sites on the internet.
A VPN is well-known for its power to secure one's online privacy. Only a high-quality, reliable VPN can enable you to access any site in Saudi Arabia. Some research is required when choosing a VPN for nations like Saudi Arabia. Among several VPNs, SPL is the best choice!
With its zero-logging policy, SPL VPN protects your surfing activities and bypasses your ISP's throttling. As a result, you can cut down on the time it takes for your favorite movies and games to load.
Daily Average Time Spent Online in Saudi Arabia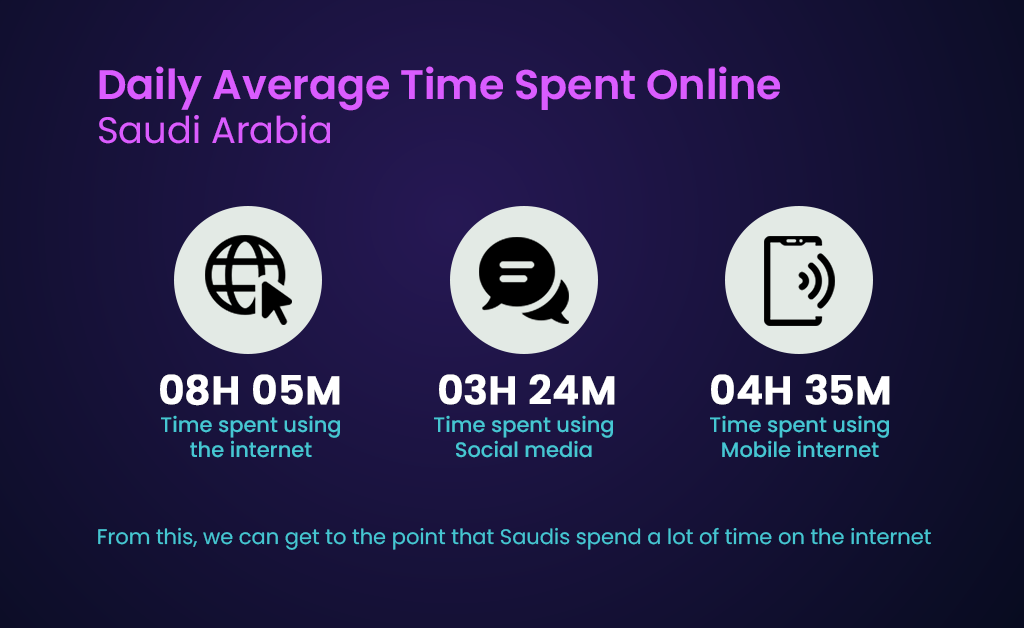 From this, we can get to the point that Saudis spend a lot of time on the internet.
In Saudi Arabia, 71.87% of people are using mobile phones. 26.75% are on laptops and desktops. 1.21% of people are using tablet computers. The remaining 0.18% of people are going to other devices. Nowadays, the number of internet users on mobile phones is stunningly increasing. SPL VPN is specially designed for Android users. Its one-click connectivity is a notable feature!
No data leakage!
Take a test and trust us!
It's a golden promise and confidence!
We provide an IP address and hide your real one to stay anonymous and surf safely!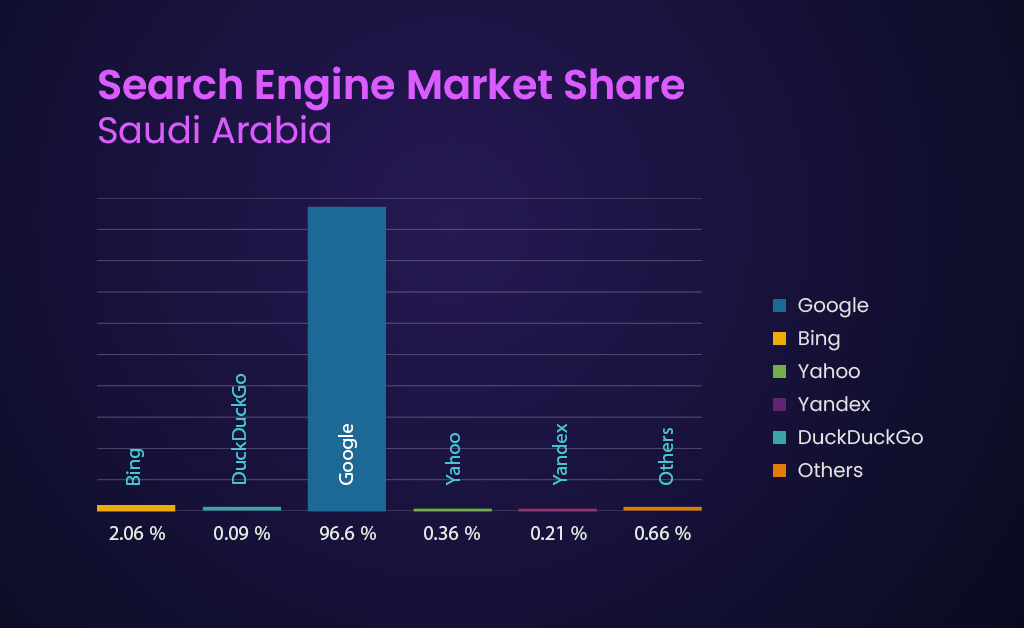 Top Browsers in KSA
The majority of people in the country are using Chrome, and it is very popular all over the world. They're ruling the market! The top websites in Saudi Arabia are Google.com, Youtube.com, Google.com.sa, Microsoft.com, and Facebook.com.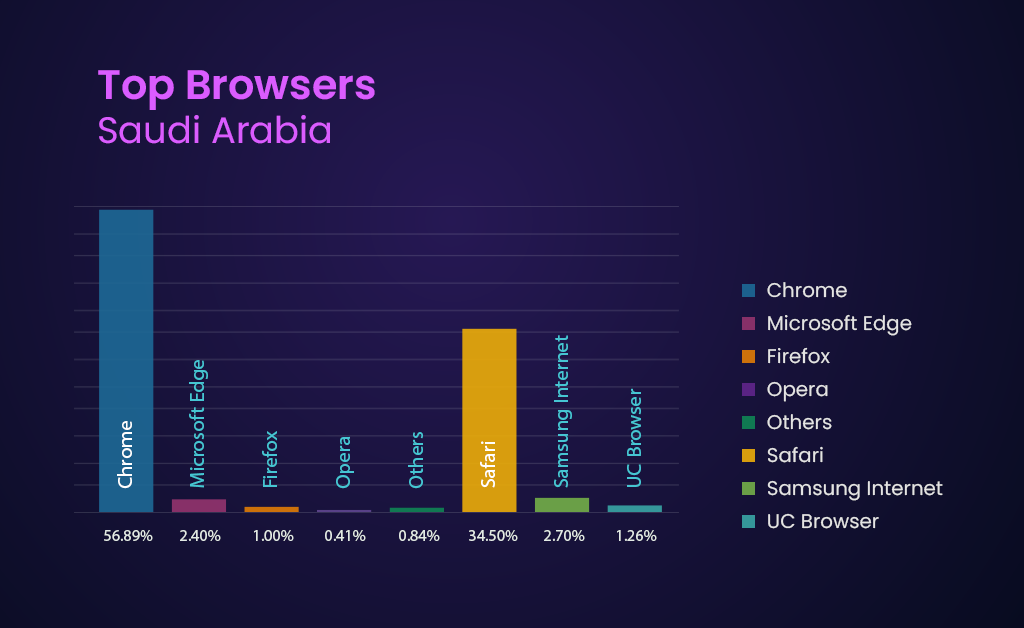 From Saudi Arabia, a large number of people visited Google.com. In fact, Google rules the heart of Saudi Arabia.
Most Used Social Network Platforms IN Saudi Arabia
With VPNs, people can access any content on the internet in Saudi Arabia.87.40% of people are using WhatsApp. They're utilizing the WhatsApp call facility with a VPN. 25.52 million active users of WhatsApp in Saudi were reported. The Line is the less popular and less used messenger app, with 14% of users and 4.09 million active users.
SPL VPN is proud to announce that many people in the country are using this emerging app to use WhatsApp, Snapchat, TikTok, Telegram, Facebook Messenger, I Message, Skype, and Line.
Popular Messenger Apps in Saudi Arabia
All internet-related businesses have been rapidly expanding. In the country, internet literacy has become a primary issue and top priority. Mobile internet users make up 33.59 million people or 94% of the population.
This is a positive sign for Saudi Arabia's corporate growth. New mobile apps on the market can take advantage of the potential to reach a large user base. This growing scale definitely needs a VPN app to make everything possible in the country.
A VPN allows you to browse the internet without worrying about security risks. You can safely surf the net without any time limit. The average time spent online daily in Saudi Arabia is 7 hours and 45 minutes. On social media, it's 3 hours and 24 minutes.
Normally, people use the internet for online shopping, social media, health, entertainment, etc. Here, the frequency of internet usage is very high! The total mobile connections in Saudi Arabia are 41.03 million. With this number, many people have already installed VPNs to access everything on the internet.
The social media advertising audience profiles are divided between 64.60% males and 35.40% females.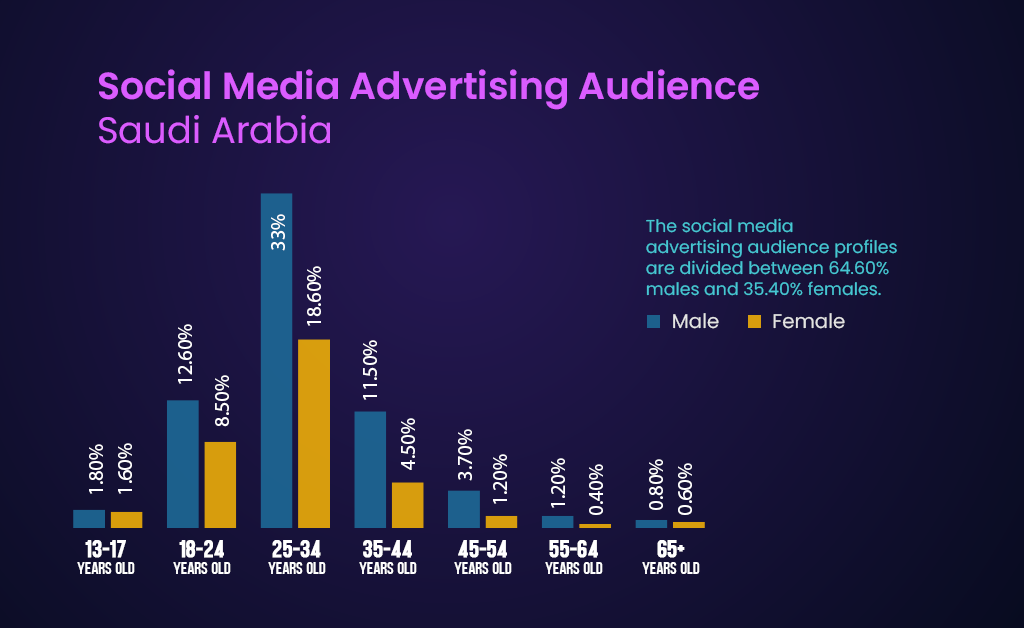 Video content reigns supreme in the sphere of online media consumption in the Arab world.
Millennials in the Middle East and North Africa (MENA) spend more than three hours a day watching internet videos, far outnumbering time spent on messaging apps and games.
'Think With Google MENA' is a Google online resource that provides statistics, analysis, and insights on the digital world in the MENA. The survey sheds light on the internet trends that are prevalent among the Arab world's younger generations, revealing the dominance of video content among millennials.
Content Filtering in Saudi Arabia
Saudi Arabia uses specially designed software to carry out content filtering. There will be control over their views through this software's design and optimization.
Schools, ISPs, parents, employers, and the government are utilizing content filtering over the internet via email, web, or other means.
This software detects what content will be accessible or what content will be blocked.
Tightened Internet Censorship in Saudi Arabia
Saudi telecommunication companies have imposed restrictions on free and low-cost VoIP services.
In fact, VoIP is a real threat to the standard mobile call operators and stands against the Saudi government's surveillance system.
The only way to get out of these issues is to switch to the best VPN on everyone's phones.
It's simple!
Install SPL VPN from the Google Play Store.
Open the app!
A single click to connect to the server location where the VoIP services are not blocked.
Saudi Arabia claims that it wants to protect national security and maintain strict social order.
As a result of this, the authorities can check blogs, websites, social media, chat rooms, emails, and text messages.
In September 2017, the Saudi government lifted the ban on online voice and video call services.
Do you think it's fortunate?
Of course not!!!
The authorities have already claimed that the calls will be monitored with the help of the CITC (Communication and Information Technology Commission).
To tighten national security, Saudi Arabia moved to encrypted communication platforms, including Signal.
You can also access Internet chat, call and messaging services, and many sites with a VPN.
SPL VPN, with its excellent features, solves throttling issues in no time, increases internet speed, and offers unlimited bandwidth.
Access Any Content on the Internet in Saudi Arabia Using a VPN
Are you a person with an interest in internet freedom? Then you won't be dissatisfied with the use of an Android VPN in Saudi.
Wanna know more?
The SPL VPN offers access to everything!. Your location is not a barrier to your digital happiness.
A VPN will make your browsing experience faster and more private by letting you build a secure tunnel between your computer and a VPN server located in a different region where the website is freely available.
How fortunate we are with VPN, right?
The VPN server then accesses the content on your behalf and sends it to you across the secure tunnel.
Strictly Blocked Contents in Saudi Arabia
The government closely controls the media and places restrictions on it under Saudi law.
Saudi Arabia blocks websites that challenge the government or monarchy.
Aside from that, any nudity, pornography, gambling sites and casinos, sites about alcohol and drugs, and blasphemous sites that criticize Muhammad and Islam are prohibited.
Security is a Top Priority in KSA
The Saudi government places severe limitations on Internet freedom.
Nonetheless, the Saudi government is working hard to ensure that everyone in the nation has access to high-speed internet.
However, in order to protect the country's security, the government imposes internet censorship.
The authorities restrict harmful, unlawful, anti-Islamic, or offensive information on a wide range of websites, and they do not tolerate online or offline criticism of the Saudi royal family or its allies in Persian Gulf countries.
According to IstiZada, a Jordanian digital marketing organization, around 500,000 websites were blocked in Jordan between 2007 and 2020.
It's shocking, right?
Saudi authorities often restrict news and other websites due to geopolitical concerns. In 2020 SAIPKSA aims to blocked 231 websites that violate regulations and rights.
@SAIPKSA aims to block 231 websites that violate regulations and rights. pic.twitter.com/6Zk6b1TSJd

— المتحدث الرسمي للملكية الفكرية (@SAIPspokesman) June 21, 2020
Some Qatari, Iranian, and Turkish news sites were restricted in 2017, 2018, and 2020, respectively, due to ongoing political tensions between these three countries.
News websites critical of the Saudi government are also banned. It includes al-Manar, a pro-Hezbollah and pro-Damascus broadcaster based in Beirut.
Authorities frequently block websites that disseminate violent extremist information as well as pornography, gambling, narcotics, and websites that share copyrighted materials.
Following an "internet inspection campaign" in June 2020, the Saudi Authority for Intellectual Property(SAIP), a government entity created in 2018, blocked 231 websites.
Among them were websites that allowed users to download or stream digital content such as music, movies, and e-books, as well as encrypted sports channels.
Violators of copyright restrictions might face fines of up to $66,000, as well as the loss of their commercial licenses and up to six months in prison, according to SAIP.
Monitoring our data by someone is not encouraged, right?
What to do?
Begin using SPL VPN!
Your security is safe in our hands.
SPL offers 1000+ servers around the globe.
Frequently Asked Questions (FAQs)on Internet Censorship in Saudi Arabia
How is the internet censored in Saudi Arabia?
Blocking and filtering content is the primary method used for internet censorship in Saudi Arabia. Aside from that, they do things like:
• Forcing ISPs to limit connections
• Implementing vague regulations to enforce content censorship
How extreme is Saudi Arabian censorship?
Saudi Arabia censors a wide range of media, including books, newspapers, periodicals, films, television, and Internet content. The Saudi government strictly regulates and restricts the media under official state law.
Why is the internet censored in Saudi Arabia?
Saudi Arabia, an authoritarian and strongly religious state, censors the internet to preserve a ruling class and enforce a religious narrative under the guise of defending the Kingdom's peace, morality, and stability.
Why is the internet censored in Saudi Arabia?
Saudi Arabia, an authoritarian and strongly religious state, censors the internet to preserve a ruling class and enforce a religious narrative under the guise of defending the Kingdom's peace, morality, and stability.
Which free VPN services are available in Saudi Arabia?
SPL VPN is a zero-logs VPN service that allows you to access the web anonymously. SPL VPN is available in censorship-heavy countries such as China and Saudi Arabia. Subscribe to SPL VPN for free today!
Which VPN is the best for WhatsApp calling in Saudi Arabia?
SPL VPN is the finest VPN to use to circumvent WhatsApp calling restrictions here in Saudi Arabia. SPL VPN offers 1000+ high-speed servers, excellent privacy and security, and free unlimited usage! What more could you ask for?
How extreme is Saudi Arabian censorship?
Saudi Arabia censors a wide range of media, including books, newspapers, periodicals, films, television, and Internet content. The Saudi government strictly regulates and restricts the media under official state law.